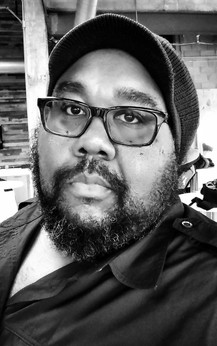 About
My name is James Chism, and I am a self-taught abstract artist. I originally hail from Chattanooga, Tennessee, and I now reside in Harper Woods, Michigan. After 23 years, my passion for creating art was rekindled in 2017. I strive to create my works of art in a way that is pleasing to the Yoruba concept known as Asé (ah-SHAY) or "so it is." Asé is the power given to make things happen and produce change. That is my art in a nutshell. I aim to inspire and make change in a way that is non-objective, unapologetic and nonconforming.
Why Do I Create Abstract Works of Art
Freedom! Other forms of artist expression, as well as life in general, has so many rules. Abstract, not so much. That is what has always intrigued me about the art form; it is raw and has no absolutes.
What Does Inspiration Mean To Me and What Do I Hope to Accomplish
I have found that inspiration is that thing that gets you out bed and makes you want to be better today than you were yesterday. For me, inspiration is all around. It is in the articles that I read, photos that I look at, people that I converse with, and places that I travel to. I was first drawn to abstract art by the likes of artists such as Jack Whitten, Norman Lewis and Jackson Pollock. Despite how world-renowned artists may have influenced me, I find lesser known artists, especially local artists, to be my greatest inspiration. It is the grassroots type of grind that really enhances their art and the feeling you get from it. My goal, for those who view and collect my works of art, is to be able to feel inspired, to smile and to know whatever is being thrown their way, life is good.
Artist Resume:
Clubs/Organizations
Embrace Creatives (member since 2019)
Detroit Artist Market (member since 2018)
Member of Detroit Fine Arts Breakfast Club (since 2018)
Publications
2018
Between The Lines (featured artist)

Metro Detroit Times (featured artist)
Events/Exhibitions
2019
Pontiac Arts Crawl/The Treasury/Pontiac, MI
All Together Now: A Celebration of Art, Film, & Music/Annex Gallery/Highland Park, MI
I KAN DO DAT/Rush Arts Philadelphia and Upper Darby Art Gallery/Philadelphia, PA & Upper Darby, PA
WARMTH (Online Exhibition)/Embrace Creatives

heART Showcase/Quicken Loans/Detroit, MI

Wall of Art Walk Exhibitions/Flint Crepe Co./Flint, MI
2018

Brothers In Motion/Light Box Art Studio/Detroit, MI

Conception Art Show/Dovetail Brewery/Chicago, IL

ABSTRACT/Norwest Gallery/Detroit, MI

Hotter Than July Fine Arts Exhibition/The Carr Center/Detroit, MI

Detroit Little Library Exhibition/Light Up Livernois/Detroit, MI

Creative Covenant Artist Series/Bushnell Congregational Church/Detroit, MI

All Things Great and Small/Arts Extended Gallery/Detroit, MI

Monster Drawing Rally/MOCAD/Detroit, MI